Business Community
The State of Maryland has been made aware of a new phishing scam that targets the community of vendors doing business with the State of Maryland. Please do not engage or reply to the messages. Please go to the Dept of General Services website for more information about this fraudulent email.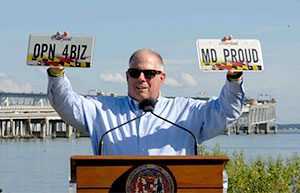 Maryland is Open for Business!
…And it wants your business to be successful in the State!
This website was created to provide businesses, including non-profits and Preferred Providers, with the tools and training necessary to successfully bid or propose on Maryland contracts.
On this website you will have links to:
The eMaryland Marketplace Advantage "Bid Board" for access to the electronic solicitation notifications and depending on the procurement, the ability to bid online;
The Small Business Reserve (SBR) Program to self-certify your small business in Maryland;
The Minority Business Enterprise (MBE) Program to become a certified minority business in Maryland; and
The U.S. Department of Veterans Affairs to begin the verification process to have your Veteran-Owned Small Business (VOSB) or Service-Disabled Veteran-Owned Small Business (SDVOSB) become eligible for the VA Veterans First Contracting Program and a verified Veteran-Owned Business Enterprise (VSBE) in the Maryland VSBE Program.
Additionally, you will have access to training modules created by the Governor's Office of Minority Affairs (GOMA) and the Department of General Services (DGS) on how to create a bid or avoid mistakes in proposing to State of Maryland solicitations. There is also a link to the Maryland Procurement Technical Assistance Program (PTAP) to receive counseling and training to successfully bid or propose on all government contracts.
ALL BUSINESSES contracting with the State of Maryland MUST REGISTER with the State Department of Assessments and Taxation (SDAT). Click here for helpful resources for new and existing businesses, including a "Checklist for New Businesses" and "Questions and Answers for Non-Maryland (Foreign) Businesses".
If you have any suggestions for or comments about this website, please contact Jamie Tomaszewski at Jamie.tomaszewski@maryland.gov or 410-260-7386.