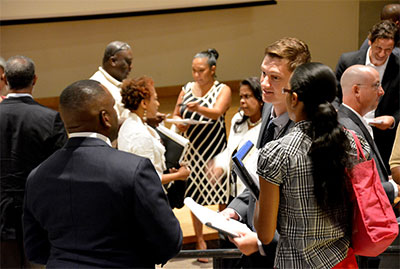 ALL BUSINESSES should register on eMaryland Marketplace Advantage (eMMA), the State's
procurement portal. Registration is free and you can begin here:   

The State of Maryland and local governments and schools use eMMA to publish solicitations. Once registered with eMMA, your business will receive email notifications of solicitations issued under the NAICS codes your business identified during registration. So be sure to register for as many commodity codes as may apply to your business.
When you receive notification of a solicitation:
Review the solicitation's scope of work.

To determine whether your business is able to meet the requirements, and whether you would like to submit a Bid or Proposal to the State. If your business is not able to meet the solicitation's requirements, it still may be possible to perform as a subcontractor.
Attend the Pre-Bid/Proposal Conferences.

For those solicitations your business is interested in. Pre-Bid/Proposal conferences are a good opportunity to improve your understanding of solicitation requirements, network with other vendors and discuss potential subcontracting opportunities.
Ask questions!

If you don't understand or are not sure about something in the solicitation, ask. During the procurement process, questions must be directed to the Procurement Officer, who is identified in the solicitation. 
Make sure your Bid or Proposal includes all required documentation.

And fully addresses all requirements in the solicitation from the requesting State agency. 
Submit Bids or Proposals by or before the Bid/Proposal Due Date and Time.

Bids or Proposals submitted after the Due Date and Time will be rejected.
WOMEN-OWNED and MINORITY BUSINESSES should register with the Maryland Department of Transportation (MDOT) to become certified as Minority Business Enterprises (MBEs).
Only this pool of certified MBEs is eligible to be considered for MBE subcontracting opportunities on State of Maryland contracts. Visit the MDOT MBE website.
From the MDOT MBE homepage, vendors can access an overview, applications assistance workshop, and certificates and forms for becoming certified.
SMALL BUSINESSES can self-certify through eMMA for the Small Business Reserve (SBR) Program. Information for this program, including registration information, may be found here. Some procurements are reserved for small businesses, which means that small businesses are competing only against other small businesses.
VETERAN-OWNED SMALL BUSINESS ENTERPRISES (VSBEs) must be verified by the Center for Veterans Enterprise of the United States Department of Veterans Affairs in order to be eligible to be considered for VSBE subcontracting opportunities on State of Maryland contracts. VSBEs can obtain more information and apply for verification through the Office of Small & Disadvantaged Business Utilization on their website.